15th June 2021 - 10:00
Online - Zoom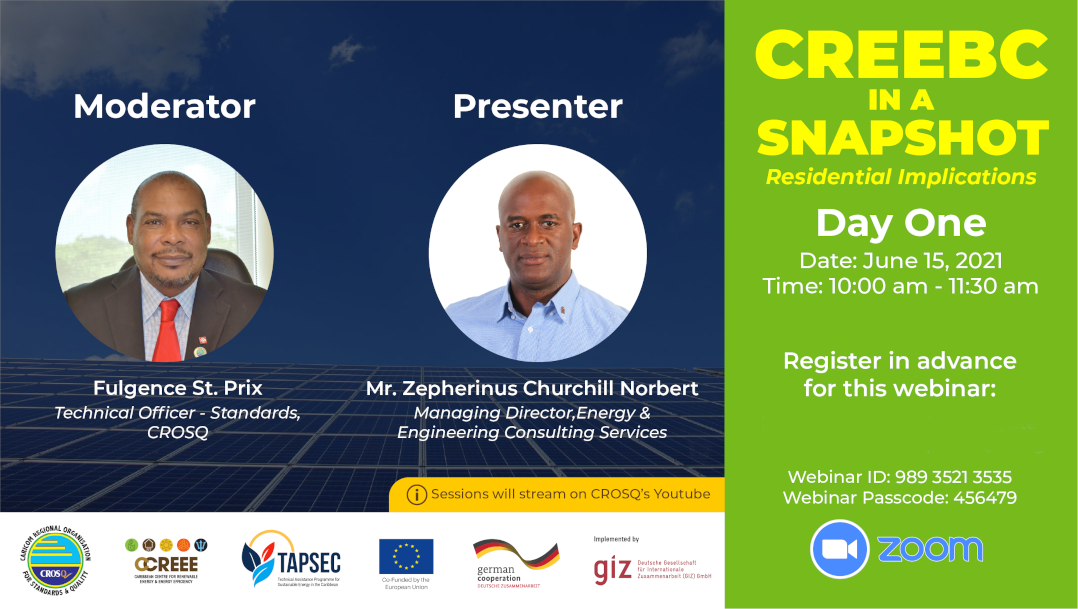 This webinar, "The CREEBC in a Snapshot: Residential Implications", is the fifth in a series of ten being hosted by the CARICOM Regional Organisation for Standards and Quality (CROSQ), in conjunction with the Caribbean Centre for Renewable Energy and Energy Efficiency (CCREEE). This event is a sensitisation and education activity of the Regional Quality Infrastructure component of the Technical Assistance for Sustainable Energy in the Caribbean (TAPSEC) project.
As the TAPSEC project is an initiative funded by the European Union and the German Government, with a mission of ensuring that modern, clean and reliable energy supplies are accessible to all CARIFORUM citizens at affordable and stable prices, this webinar will dive into the residential aspects of the CARICOM Regional Energy Efficiency Building Code (CREEBC).
In an effort to educate those practitioners, policymakers, homeowners and likeminded interested parties in what the Code has in store for their consideration, we invite you to register for this event, to be held on Tuesday, June 15, 2021 at 10 a.m. AST. Come talk to one of our regional experts and have your questions answered.
Specific registration details to follow in coming days.
Stay tuned here or you can also follow these links to our Facebook, LinkedIn and Twitter for regular updates.
EVENT INFO :
Start Date:

15th June 2021

Start Time:

10:00

End Date:

15th June 2021

End Time:

11:30

Location:

Online - Zoom