3rd June 2021 - 10:00
Online - Zoom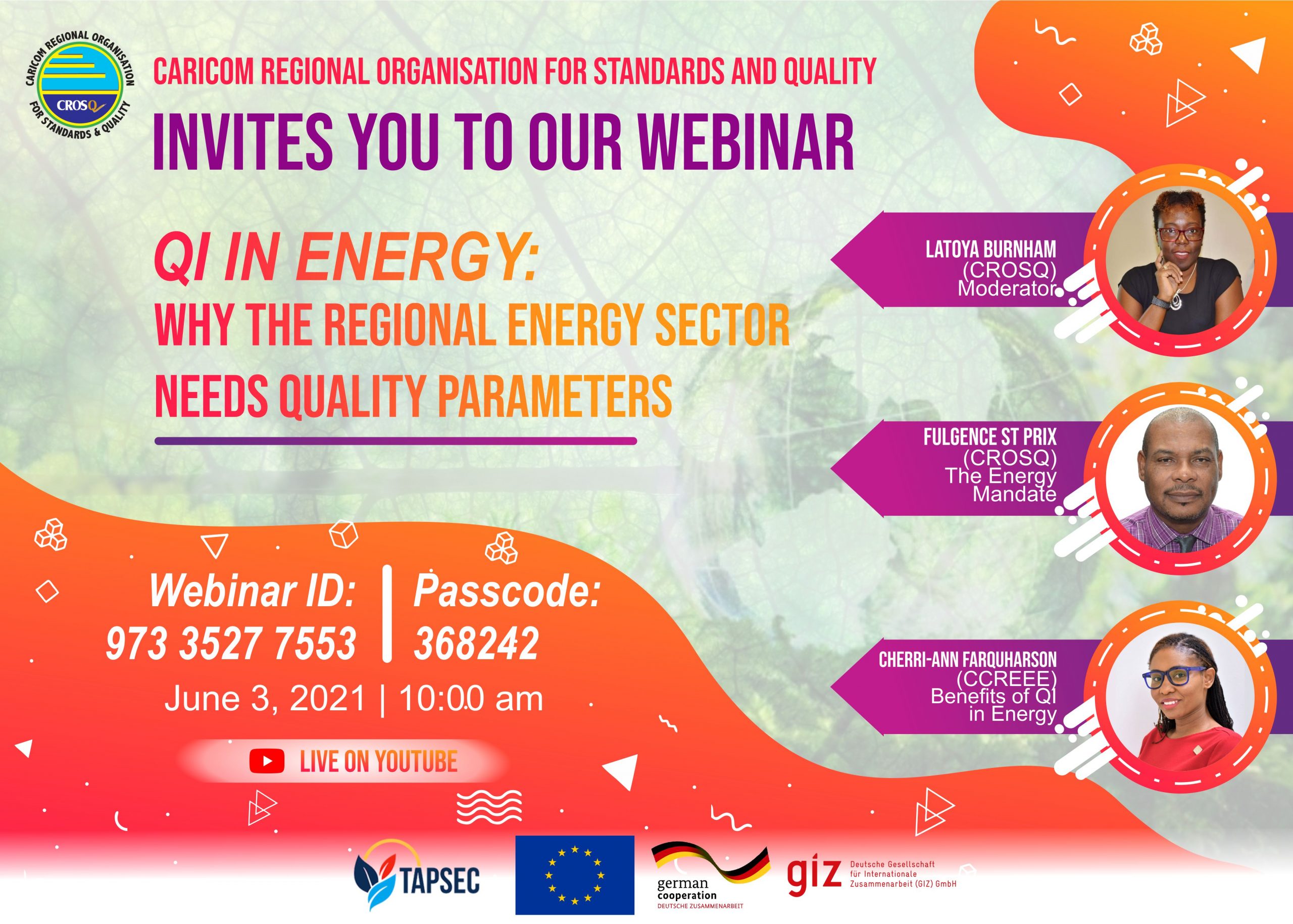 This "Quality Infrastructure in Energy: Why The Regional Energy Sector needs Quality Parameters", is scheduled to be held on Thursday June 3, 2021 at 10am AST . It is being hosted by the CARICOM Regional Organisation for Standards and Quality (CROSQ), under the Regional Quality Infrastructure component of the Technical Assistance for Sustainable Energy in the Caribbean (TAPSEC) project. The TAPSEC project is an initiative funded by the European Union and the German Government and its mission is geared towards ensuring that modern, clean and reliable energy supplies are accessible to all CARIFORUM citizens at affordable and stable prices.
The objective of the webinar is to educate and sensitize Micro, Small and Medium Enterprises (MSMEs), manufacturers and retailers of electrical appliances, and those interested in the trajectory of EE and RE developments, about the need for quality parameters within the region's energy sector. The webinar will feature presentations from organizations such as the Caribbean Centre for Renewable Energy and Energy Efficiency (CCREEE) who will explore the benefits of quality infrastructure in the energy sector and the CARICOM Regional Organisation for Standards and Quality who will present on the initiatives the organisation is undertaking to add quality into the sector. These initiatives may interest you.
With that in mind, we invite you to register and also share the attached poster invitation with your network, inviting them to come and be a part of this educational and informative event. We also ask that you encourage persons to register for the webinar via the link below.
Topic: Quality Infrastructure in Energy: Why the Regional Energy Sector Needs Quality Parameters
 Register in advance for this webinar: https://zoom.us/webinar/register/WN_BzSxjrzqShiRq_0NZfTtYw
After registering, you will receive a confirmation email containing information about joining the webinar.
EVENT INFO :
Start Date:

3rd June 2021

Start Time:

10:00

End Date:

3rd June 2021

End Time:

11:30

Location:

Online - Zoom